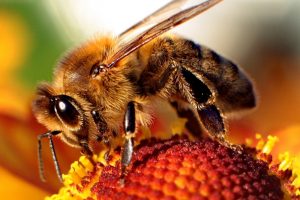 This year's war on wasps in Minnesota is necessary in part due to climate change: when there are not enough freezing days these insects flourish, and it allows them a much higher probability of survival than when the winters are harsh.
Therefore, colonies are larger than ever, wasps and bees (which we need to save) are hungry, and this makes them more likely to attack in response to the danger pheromone released when one of their own is under threat of death. That's why swatting wasps and bees is not recommended; try one of the following techniques instead.
Wasps do have certain uses around the yard, consuming dead bugs and flies, but stings are painful and can be deadly to those who are allergic. Removing them can be difficult, as chemicals are toxic and can be harmful to children and pets – you might want to consider a more natural approach to eliminating these pests.
Prevention:
Prevention is always the first step to keeping your yard wasp and bee free. If you remove any discarded food, even pet and bird food, and cover trash cans, that will be one less attractant. Sweet smells attract wasps, including nectar, lotions and perfumes.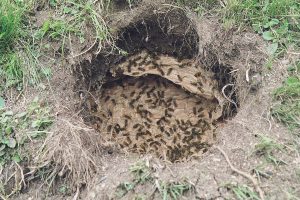 Discourage bees and wasps from making their home in your yard by checking your house and areas around it for places that need repair. Any broken siding or cracks in construction are ideal places for wasps to build a nest, and if there are ways to get into the house, such as through broken air ducts, vents or windows, they will take the opportunity.
Rodent holes and burrows in your lawn will also give them a safe place to live, so be sure to fill them in and keep the grass cut short.
Decorative wasp decoys will help too. They can be purchased at most home improvement or garden stores, or on Amazon. They're especially effective for paper wasps, which can be territorial and generally will not construct a nest that is within 200 ft of the next one. Placing a couple of decoys, one on each side of the house, can dissuade them from going in. If you don't want to purchase them, you can create your own and it requires no crafty skills. Simply crumble up some old newspaper into chunks, stuff them into plastic grocery bags and tie them shut. Stuff the bags into paper lunch-size bags, and then hang them up in corners and additional spots where wasps could be likely to nest in or around your property.
Grow wasp repelling plants:
Removing plants from your landscaping that attract wasps and bees will also help, and replace them with plants that they do not like, such as spearmint, thyme citronella, eucalyptus, and wormwood.
Not only do wasps stay away from all kinds of mint grown in the garden, you can back it up with peppermint oil, but putting several drops on a cotton pad and placing them strategically around your yard, such as on porch roofs, beneath eaves and in other cracks and on ledges.
A research printed in the Journal of Pest Management Science at 2013, reported exceptional results with peppermint oil.
The study also found that a combination of lemongrass, clove and geranium essential oils repelled employee wasps. Try a mixture of many drops of all the oils in a spray bottle full of water, and a couple of squirts of dish soap. Spray it liberally on and around your house, in areas where wasps are known to build nests.
These traps described below work by attracting wasps to fly into the container of sugar water, and they are not able to escape.
First, cut off the neck a two-liter plastic soda bottle.
Then remove the bottle cap and turn the neck upside down and put it in the jar opening which you just cut.
Bait the trap by putting a mixture of sugar and water inside. You could also use beer, soda, vinegar and water or even laundry detergent. By including a little bit of cooking oil to the edges of the trap, you will make it slippery and ensure the wasps cannot crawl out.
Hang your trap somewhere where wasps will be attracted to it, or close to an existing nest, and when it is full, simply take it down, throw it out, and build a new one.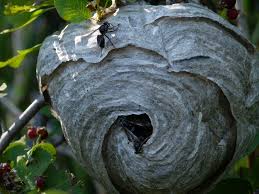 Eliminating wasp nests:
IMPORTANT: Eliminating wasp nests can be exceedingly dangerous. It's strongly suggested to seek the services of a seasoned professional to perform the task for you. If trying yourself, first make certain you're not allergic to wasp stings by assembling an allergy test with your health care provider. Make certain you wear protective clothing, and plan an escape route if the wasps opt to swarm.
An eco-friendly approach to eliminating wasps would be to use plain soap and water. Add two tablespoons of dish soap into a spray bottle full of water, and squirt it at the nests. Experts say the soap functions to clog their breathing cubes and they die almost immediately. It is far more humane than using pesticides to kill them, as these substances can take hours to be effective.
If you have got big nests, you might choose to handle them using a garden hose. Simply join the hose-end sprayer and fill it up with warm water and dish soap. This technique could be quite a bit messier and might increase the possibility of being stung, so make certain to stand as far back away from the nest that you can, and wear protective clothing.
Protective garments such as shorts, boots, socks, a hooded sweatshirt with the hood pulled over your head, gloves and protective goggles or eyeglasses are vital. Also remember that this is work that's best done at night since that is when the wasps are least busy, so their response time is slower, and they're not as competitive. Use a reddish or amber colored light for secure visibility as regular flashlights will bring wasps to you.
Another alternative is to light a fire in a barbecue just under the nest. Let it smoke for an hour or two, then once you are sure the nest is empty, you can knock it down with a broom. It is a good idea to keep a spray bottle of dish soap on hand in case any wasps remain. This technique only works on free hanging nests on tree branches or similar; do not use it if the nest is attached to the house, as you risk a fire.
Getting rid of bees in your yard:
Before you take any action, it's vital to be certain that it is definitely bees you're addressing, and not wasps or hornets. Bees are valuable pollinators and aren't aggressive or harmful (unless someone in your family has an allergy), so killing them must be avoided if possible.
You can identify bees by examining them (that is easiest if you can find a dead bee). Start looking for hairs on the body – all bees have hairs, whereas wasps tend to have smooth exteriors. Honey bees build their nests from wax, in a honeycomb formation, whereas other stinging insects often construct their nests from wood, fiber or sand.
Honey bees have a tendency to be most active in spring, even when they are collecting pollen. Watch for signs of them flying back and forth from the nest.
The best course of action is to telephone a local beekeeper or contact a pest control company. If you have confirmed the presence of honey bees and have found the nest (they prefer enclosed spaces like wall cavities, roofs and chimneys), then your first step must be to call a local beekeeper. Honey bees are disappearing quickly, and it is crucial that their habitats be preserved.
Beekeepers will often physically remove both the bees and their hive, without having to exterminate them. They may do this for free or they might charge a commission, depending on the location of the nest and the effort involved. In certain places, they might even pay you.
The beekeeper will usually cut out the honeycombs and set them in frames, which the beekeeper can later transfer to their own hive box.
If the nest is hard to reach, the beekeeper may use a special vacuum to suck up the bees without killing them.
If the nest is behind a wall, you might have to call a contractor to knock down a portion of the wall to give the beekeeper access to the bees. As the homeowner, you will have to cover the cost of the any repairs which follow.
The bees will probably become agitated as the beekeeper does his/her job. Therefore it is recommended that you keep your family, especially any pets or children, inside. The beekeeper will be protected by their beekeeping suit.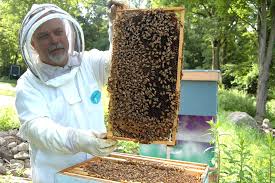 In certain situations, local beekeepers may be unwilling or unable to eliminate the nest. If this is the case, you'll need to call a professional pest control expert.
Once the exterminators have removed the bees, it's important to remove the nest, otherwise the bees and the honey from the combs could begin to rot, producing a very bad smell and potentially causing damage. Then you'll need to thoroughly clean the region with warm soapy water, and repaint if necessary.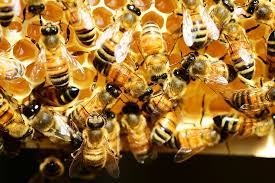 Another choice for eliminating the bees without killing them would be to trap them out of the nest. This really is a time-consuming procedure, so it must only be undertaken by homeowners who are not in a rush to get rid of the bees or hire a pest management professional.
To trap the bees, you will need an exit cone created from screen wire.
For this procedure to work, it is very important that you seal up all other entrances (like holes and cracks) leading into the hive, otherwise the bees will simply find another way in.
To ensure that the trapped bees survive, you'll want to put a small hive (provided by a beekeeper) as close to the exit cone as you can. When the bees that are trapped find that they can no longer return to their first nest, they'll join this new nest instead.
Depending on the size of the original colony, it might take up to two months for all the bees to exit. The original queen will not abandon her brood, so you will need to inject pesticides into the wall to kill her and any residual bees. Clean up after. Once the bees have been removed, it is important that you remove the hive and then wash up any dead bees or honey prior to sealing the area.
The smell of old honey and wax can draw in new swarms who will begin to prepare their hive in the same place, so it's important to eliminate the old one and seal off the area to be able to avoid going through the whole bee removal procedure again the following year.
To get rid of a large hive, you might need to tear down a wall; this is a nuisance, but remember that the cost of repairing the wall is less than the possible cost of replacing damaged drywall. Clean up the old hive, then paint over the area.
The last step would be to fill in the cavity (expandable foam insulation is recommended) and seal up any holes or cracks in the wall in which the bees could potentially reenter. It's also a good idea to inspect the area periodically throughout the year, to make sure all of the entrances remain sealed.
We're here to help so feel free to  call us  for more tips at (651) 646-6131.