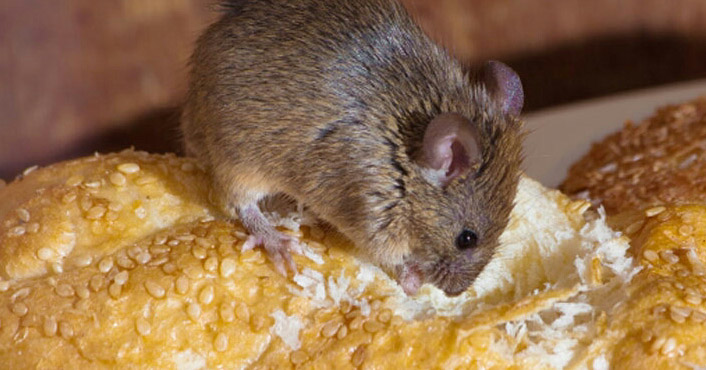 For Emergency Call Pest Control: (651) 646-6431
There's no such thing as one mouse… if there's one there's usually dozens! Find out here, the why and how on getting rid of mice.
Mousey Mousey….
Ever hear this conversation at 11.30pm?
Night 1:
Honey! What's that noise?
It sound like little feet in the attic!
Sounds like chewing to me!
I'll get on it first thing in the morning….
Night 2, 1.30am:
Honey, wake up!! I hear those noises again! Did you look in the attic yesterday?
No, Honey, I didn't.
Well, if you don't, I'll be living at the Sheraton tomorrow night!
A mouse can live for about a year
Mice are rodents, all rodents must chew. Their teeth grow constantly and they must wear them down.
A female mouse can have 3-6 pups per litter, every 21 days after sexual maturity. Populations can explode.
Mice can squeeze through a hole as small as the circumference of a pencil.
Mice are almost blind – "Three blind mice, see how they run…"
THAT'S WHY YOU SEE THEM RUN ALONG WALLS.
Mice need to stay warm, that' why you see their nests lined with chewed paper or cotton.
Mice urinate as they travel,leaving odor and pheromones in their trails for other mice to follow.
Mice can extract moisture from their food – they do not need water.
Mice are GREAT climbers, they can crawl up stucco and drain pipes.
Mice usually live within 10 feet of their nest (horizontal or vertical).
HOW DO I GET CONTROL OF THESE LITTLE CRITTERS?
11. Trapping: there are a variety of mouse traps on the market: Snap traps, glue boards and live traps.
Remember mice travel along a wall or surface, and they feel their way along with their friscae, or whiskers. So if you want to be getting rid of mice, set your traps perpendicular to the wall, trigger base against the wall. That way they snap against the wall; some mice will get smart and jump snap traps. If this is the case, set another trap 3″ from the first trap. Do the same thing with glueboards and live traps.
12. Sealing holes – exterior.
Products for sealing exterior holes include:
Foam – aerosol. This isn't the greatest option because mice chew constantly.
Caulk – works well.
Steel wool – this is ok, but it rusts.
Copper mesh – this is great, and doesn't rust.
13. Rodenticides. You need to be careful using these products; the rodenticide should be in tamper resistant stations, so that non-target animals will not consume them.
14. Find the entry area and home base. If you have one mouse you likely have a dozen. As mentioned, once they reach sexual maturity they can have a new litter every 21 days. They are also territorial so they may have set up shop in different areas of you home and you may not know it. Be sure to find all of their favorite haunts and eliminate them.
15. Call a professional pest control operator; they have the experience and do this kind of work every day. They know what to look for and how to eliminate these critters from your home.
Call Pest Control: (651) 646-6431